Internet Radio Hosting - SHOUTcast / IceCast-KH
Create your own Internet radio station!
Your listeners will be able to tune in through almost any media player, such as Windows Media Player, Winamp, iTunes and Quicktime Player to name a few.

Choose any plan on our "Premium Network" and instantly get 30% off!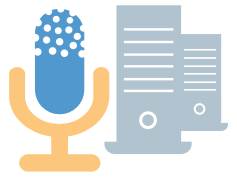 We make it easy to broadcast your own Internet radio station.

Live From Your Computer
Use SAM Broadcaster
Your complete Internet radio automation software which streams to our servers. [ Visit Website]
Use RadioDJ (Free)
Free, yet powerful Internet radio automation software. [ Visit Website]
Any other automation system
Software must support either Shoutcast or Icecast technologies.

Upload to Auto DJ
Use LiveWebDJ.com
Automates your Internet radio station and broadcasts to our server. [Visit Website]
Use Basic Auto DJ

(Included)


Upload your songs to our server, create playlists & you're done. [View Tour]
Switch between Live & Auto DJ anytime
Let Auto DJ take your stream over when you are not broadcasting live. Stay on air 24/7!
You're In Complete Control
You control all aspects of your SHOUTcast or IceCast-KH streaming server using the CentovaCast Control Panel, which provides detailed statistical information about your station & your listeners, along with many other powerful features.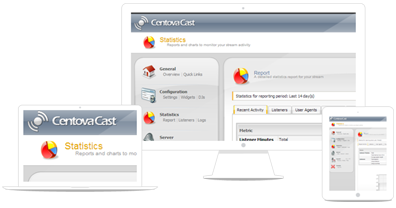 Our control panel has everything you need to be successful.
Easy web-based stream configuration.
Full statistics and royalty reports.
Automatic stream monitoring & restarting.
Hosted station home pages.
View current listeners.
View past listener trends.
Code snippets for your website.
Tune-in links & more! [View Tour]
Value Network Plans
Perfect for new & hobby stations that need to keep costs to a minimum. Your station will be allowed to burst to full capacity for short periods of time.
Premium Network Plans
Geared up for popular & professional stations that need the high capacity, maximum uptime and the best bandwidth quality on the market.

Signup online and your account will be instantly created. A confirmation e-mail will be sent to you which will include a link to the control panel.

We offer free assistance to get your station setup. If necessary, you can share your screen with a tech so they can remotely configure your computer.

Need a custom plan? Have questions? Need help? Please contact us. We would be happy to assist you.

Sam Approved

LiveWebDJ Compatible